Jeep Trip During Your Israel Vacation
Jeep tours in Israel for families and groups
Do you want to organize a group or family day in Israel?
A wonderful outing with your family and friends
who are coming to a vacation in Israel?
Come to a Jeep trip in the Northern part of Israel,with beautiful sceneries, fresh air, high mountains and running streams.
Jeep tours in the north of Israel combine nature, adventure and plenty of amazing experiences and all of this while enjoying comfortable conditions
–
–
–
Danny Jeep offers organized jeep trips for tourists and families that are arriving for a vacation in Israel:
–
A Jeep Tour In The Valley Of The Springs – Beit She'an Valley
A fascinating jeep tour through the amazing sceneries of the Gilboa' Mountain,

which overlook the Harod Valley, colorful agricultural fields,
wheat fields and fresh blue fish ponds. In Valley Harod lies a paradise of springs,
in which it is fun to dip and freshen up, continue in a walk through the Kibutzim river,
a fun and enjoyable walk in a stream of water.
(The walk in the stream is approximately one hour long,
and requires knowledge of swimming.)
–
A jeep trip with an Indian Kano ride in the Jorden River
A jeep trip in the Lower Galilee, among the agricultural fields,
the blossoming fruit orchards and round hills to a special viewpoint
towards the Yavne'el and Jordan Valley.
In this trip we will combine a fun Kano ride
in one of the calmer parts of the Southern Jordan River.
A light rowing in the Indian Kano boats,
under the Eucalyptus trees and listening to the sound of the stream.
The stream is surrounded by beautiful vegetation and a magical natural ambiance.
–
A jeep trip and three tours of the Galilee
An interesting jeep tour in the breathtaking views of the Galilee,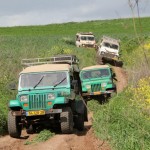 including refreshing stops to look at the spectacular views and drink natural herb tea,
have some refreshments and explanations regarding the area.
During the rest of the tour we will get to know the Cherkassy culture –
folklore, food and Cherkassy traditions.
Continuing our trip, we will visit the Tavor Vineyard,
where we will learn of the wine making process,
and finish with a tour in the fascinating marzipan statue sculpture exhibit…read more
—
A jeep trip in the Menashe Plateau
A beautiful trip through the Menashe Plateau,

with its green hills, fresh air and water which flows all year round.
Most of the surface is covered by forests with impressive
reservations of Tavor Oak trees, flowing springs and river vegetation.
During this trip we will cross some of the special views of the Biosphere park
and stop for viewpoints, herb tea and explanations about the area.
–
Round Kinneret Jeep Tours
A trip around the Sea of Galilee is unique and very charming.

The drive is through beautiful terrain
which spreads from the Jordan Valley in the south, Sefad in the North
the Golan Hights in the East and the Lower Galilee
The Kineret is in the center of all this beauty and magic
Such a tour in the Sea of Galilee will let you experiencethe
amazing atmosphere…read more
–
—
Jeep trip to Mount Gilboa
Danny Jeep will take you to the highest peak of the Gilboa Mountain,

the young oak forest, beautiful carpets of blooming flowers and spectacular
views observed from the mountain. throughout the trip
You will reveal special views towards to Carmel Mountain,
Nazereth Mountains, Giv'at Ha'more and the Upper and Lower Galilee.
.We will drive through a beautiful winding way, which will take us
to the highestpeak of Mount Gilboa – Mount Malcishua…read more
–
–
Vacationing in the Valley of the Springs
Mystery of the Japanese, Night Safari and Gourmet Meal Unique experience

for the vacationing families in the Valley of the Springs,
especially for the cool after noon hours. After a visit to the cool
springs of the Valley, we will meet with Na'ama in Kibutz Heftsibah
for an interesting tour of the Japanese Garden…read more
–
–
–
press here to see more Danyjeep's trips in Israel
—
–
:For reservations or additional information:
kindly contact us via our mail
or mobile phone: 050 550-3717